USER MANUAL English TraditionalChinese Polish
FEATURES:
dimension :82*70*25mm,weight:60g
Interface with LAPTOP, PC or compatibles through USB 2.0 port.
Accepts standard file formats: JEDEC, INTEL (Extended) HEX, HOLTEK, EMC(.CDS), INTEL HEX16, Motorola S record
Features Test Vector capability and multiarray fuse map editor
Optimum programming for each individual device
Support 3.0v Low voltage devices
Super programming speed.
Supports WindowsXP/Vista/ Windows 7 (32bit and 64bit)/ Windows 8 (32bit and 64bit)
Supports eight languages,such as Chinese(Simplified),Chinese(Traditional),English,Korean,Poland,Italian,Portugueseand and Dutch.
DEVICE SUPPORT: VIEW
PROM: N/CMOS E(E)PROM, SeriesE(E)PROM, and FLASH Memory
PLD: CPLD, EPLD, GAL,PEEL,PALCE and more
Microcontroller: Atmel, Microchip, etc.
Adapter assort with ISP programmer
Can use with many adapters of our company.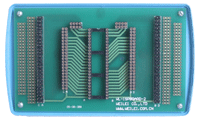 Combination with different adapters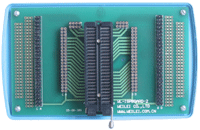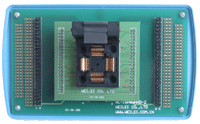 DEVICE UPDATES:
WEILEI updates software and device algorithm regularly. You can get the latest software free of charge through internet http://www.weilei.coml. WEILEI also adds devices upon customer's request at its option.

ORDERING INFORMATION:
programmer,cable, manual, software included
15 day moneyback guaranty, one year warranty
WARRANTY & TECHNICAL SUPPORT:
Programmer is warranted to be free of manufacturing or workmanship defects for one year from the date of purchase. Technical support is available by phone Monday through Friday 9:00am to 5:00pm.